Farm-to-fork fare.
Fresh. Organic. Local. While you take in the bountiful views, our innovative chefs bring the local bounties to your plate.
Lunch

Refuel for your adventures with regional treats and homemade sweets—from out-of-this-world specialty dishes to down-to-earth favorites you crave.

Dinner

Whether you opt for a sumptuous four-course dinner or a lighter tasting menu, hand-crafted excellence is always on the menu.
Turning the tables on cruise dining.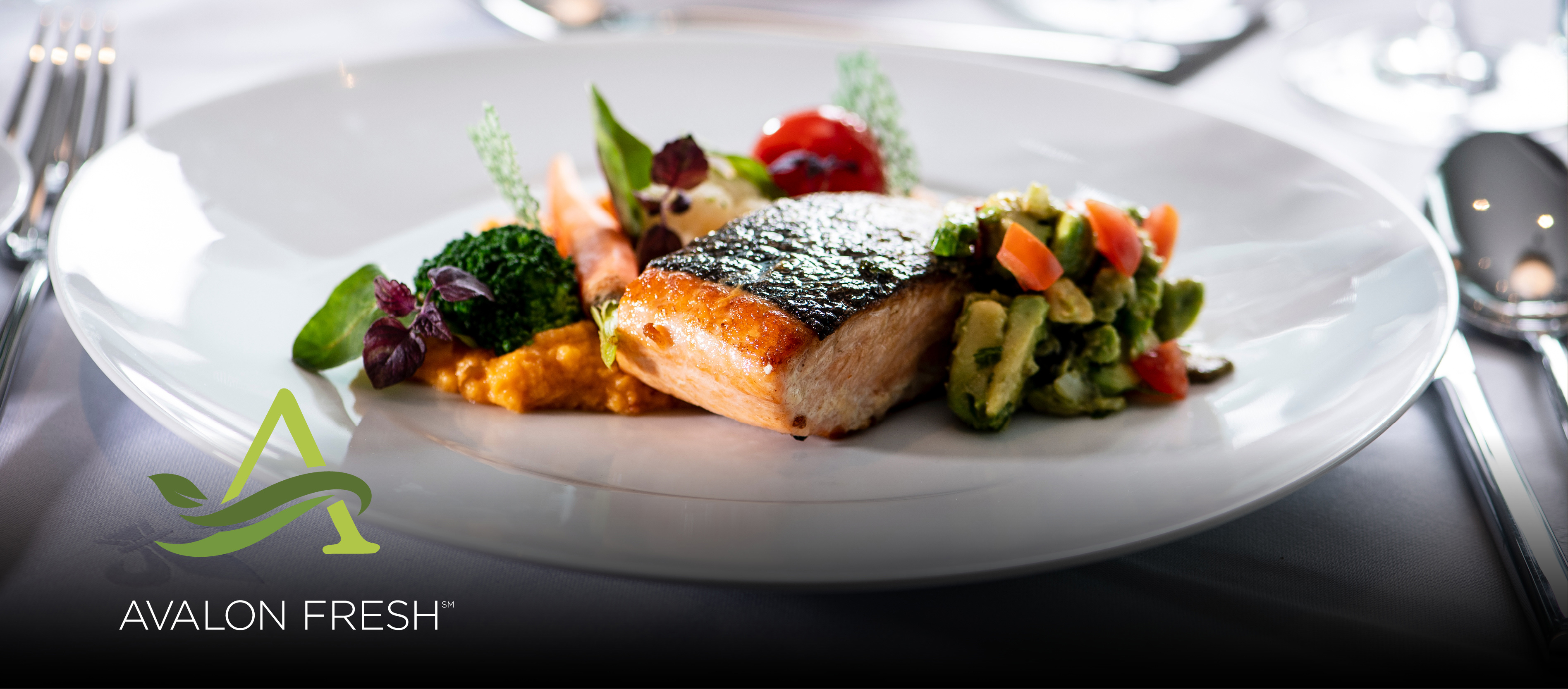 Avalon Fresh: The heart-healthy menu everyone loves.
---
With our exclusive Avalon Fresh menu, you can take an indulgent cruise without drifting from your healthy habits. From energizing juices at breakfast to artfully crafted salads at lunch to high-protein plates at dinner, Avalon Fresh options—including vegetarian and vegan specialties—are available at every meal so you can guiltlessly partake in creative cuisine without sacrificing great taste.
We're Into the Atmosphere.
Setting the Table in the Settings you Crave.
While we're frequently lauded for our exceptional cuisine, we're also praised for our menu of dining venues. Whether you're in the mood for the elegance of the glass-walled Panorama Dining Room, the coziness of the Panorama Bistro, or the breeziness of the Sky Grill, we have just the table—or picnic basket—for you.
The Brilliance Behind Each Dish.
---
Executive Chef Krisztián Restás

The master behind our menus.

For more than two decades, Executive Chef Krisztián Restás has been on an epic epicurean journey across Europe and European waterways. Since joining Avalon Waterways in 2013, Chef Restás has stirred, seared and sauteed his way from Traveling Chef to Executive Chef, gracing every menu with his worldly experiences, regional authenticity, and procures the freshest and highest-quality local ingredients.

Karl and Leo Wrenkh

Healthy dishes with a dash of brotherly love.

Karl and Leo Wrenkh, raised in the first high-quality vegetarian restaurant in Austria and founders of the Wrenkh Vienna Culinary School, created our exclusive Avalon Fresh menu so you can partake in regional delicacies while keeping your healthy-habits. Using the freshest ingredients from local farms and suppliers, Karl and Leo have created guilt-free, gourmet recipes with a dash of innovation and a smidgen of surprise.
The Foods You Love…Minus Ingredients that Don't Love You Back
Our Avalon kitchens are designed to cater to your dietary sensitivities with ease. In fact, you're invited to share any restrictions or preferences with us on day one so that we may make your dining experience worry free and wonderful! Dig in to a variety of delicious options at every meal to accommodate your unique dietary requirements, including gluten-free, dairy-free, vegan, vegetarian, or other special dishes prepared upon request to accommodate any sensitivities or allergies to keep you feeling great!
Our menus are complete with allergen labels, indicating which dishes include the following ingredients: gluten, milk products, eggs, peanuts, fish, crustaceans, lupines, nuts, sulfur dioxide and sulfites, celery, mustard, sesame seed, soy, and mollusks.