2021 Season
Through the Stones & Storybook Settings
---
cruise
:
WZA-T3
8 Day River Cruise Basel to Amsterdam
DISAPPEAR ON A MAGICAL SAILING WITH DIANA GABALDON

Go tell the bees that … you're invited to get insider stories from international best-selling Outlander Author Diana Gabaldon, on a week-long Romantic Rhine cruise. Disappear in the magic of this river that gifts you a sail through time and tales, cliffside castles and custom-rich villages in the storybook settings of fabled, fairytale lands. Hear the Drums of Autumn calling you to fall for the Old World in new ways on this special Suite Ship sailing from Basel to Amsterdam with your favorite storyteller! Call your cruise clan and make a plan today! "Je suis prêt" (I am ready). You will experience two, exclusive on-ship events with your celebrity host, plus you will have the opportunity to share the entire vacation experience with Diana Gabaldon.

One of Europe's most legendary rivers awaits you on this exciting journey along the Rhine River, which begins in Switzerland and stops in France, Germany, and Holland! Board your vessel in Basel, Switzerland, then head for Breisach, Germany, located at the foot of the Kaiserstuhl Mountain on the French-German border. Here you'll find the gateway to Germany's Black Forest, an area of unrivaled natural beauty, best known for Black Forest ham, cherry cake, and the cuckoo clock. Continue your river cruise to Strasbourg, France, where you'll be amazed by the red-sandstone gothic cathedral with ancient murals and the fascinating astronomical clock. Also, stroll through the lovely La Petite France district with its quaint shops, delightful bistros, and peaceful waterfront promenade. Visit the ruins of Heidelberg's castle, towering magnificently over the city, or stop in Mainz for a guided walk and a visit to the captivating Gutenberg Museum.

Next up is the charming wine town of Rüdesheim, and a visit to the unique Siegfried's Mechanical Musical Instrument Museum to see the impressive collection of historical self-playing instruments. You'll pass through the dramatic Rhine Gorge—the most beautiful view of the Rhine River where ancient castles stand on cliffs 400 feet above the water. Last stop in Germany is Cologne—a 2,000-year-old city known for its gothic architecture and famous twin-spired cathedral.As an exclamation point to this wonderful Rhine river cruise, you'll spend time in Holland's popular, modern capital of Amsterdam. There is much to do with the world-famous museums and abundance of restaurants amongst the classic architecture and charming canals. The best way to see the treasures of this 700-year-old city is on a canal cruise along the elegant grachten lined with homes dating back to the city's "Golden Age."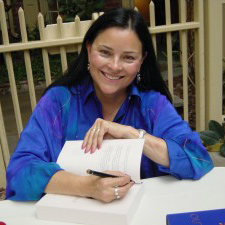 Disappear on a Magical Sailing with Diana Gabaldon
Diana Gabaldon is the author of the award-winning, No. 1 New York Times-bestselling OUTLANDER novels and is described by Salon magazine as "the smartest historical sci-fi adventure-romance story ever written by a science Ph.D. with a background in scripting 'Scrooge McDuck' comics."
A scientist with a Ph.D. in Quantitative Behavioral Ecology and a specialty in scientific computation, Ms. Gabaldon jumped the academic rails in 1991, when the adventure began with the classic OUTLANDER, and has continued through seven more New York Times-bestselling novels, with 26 million copies in print worldwide, in 40 countries and 36 languages.
In 2014, STARZ created a popular television series (also called "OUTLANDER") based on Ms. Gabaldon's books.
---