Avalon Waterways invites cruisers to say "hello" to the world's most fascinating places with unmatched intrigue, curiosity, wonder and joy. Along the way, we've discovered the sights to see, encountered the people to meet, engaged in the customs to sample and indulged in the cuisine to savor. And we've done this while bundling amazing ports and shore excursions with the industry's only Suite Ship fleet to help you greet the globe on a journey where happiness flows.
When you're ready to travel again, we're here to support you. Your safety, as well as the safety of our employees and partners, has always been our top priority, which is why new physical distancing and cleaning measures have been put in place on all of our tours. Our new Cruising with Confidence policy features new health and safety procedures from the moment you arrive to the moment you leave, without taking away from having the time of your life. The policy will evolve as time goes on and as we continue to monitor local public health recommendations, but what won't change is our commitment to keeping you safe as you explore our big, beautiful world.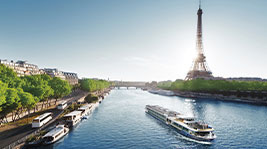 Size Matters
With Avalon, big things come in small packages. With fewer than 150 guests per cruise, you can rest assured that every inch of your ship is attended to with our famous attention to detail, including enhanced onboard protocols to help ensure a safe and healthy voyage for all. The lower guest count combined with our spacious ship design means you'll always find extra room to make yourself comfortable—in your stateroom and around the ship.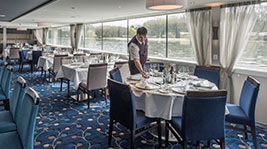 Commitment to the Cleanest Ships
We've instituted enhanced cleaning procedures throughout each ship in our Suite fleet, with steps that go above-and-beyond Avalon's already strict procedures. These include deep disinfection of each stateroom between cruises as well as dining areas between each meal service and the inspection and disinfection of all goods prior to loading on the ship.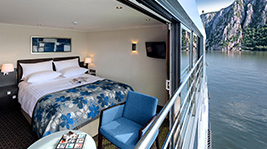 Fresh Air, Inside and Out
In addition to our unique Open-Air Balcony stateroom design, promising both fresh air and wide-open perspectives, the air in our ships is not circulated between staterooms; only within an individual stateroom and mixed with clean, fresh, outside air.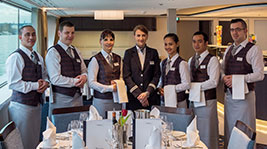 A Crew that Stands by You
With a guest to crew ratio of 3:1, our attention is always on guest comfort, health and safety. And we've taken extra measures to ensure a healthy crew, including additional training, medical certificates required prior to start the season, daily temperature checks, regular crew health screenings and social distancing in crew living quarters.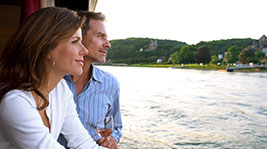 Carefree Confidence
The world has changed, but what remains certain is our commitment to your peace-of-mind while traveling. Not only have we enhanced our on-trip health and safety protocols with our Avalon Assurance program, we are also offering you risk-free, hassle-free and strings-free bookings with a 2021 Peace of Mind Travel Plan.
View Plan Details »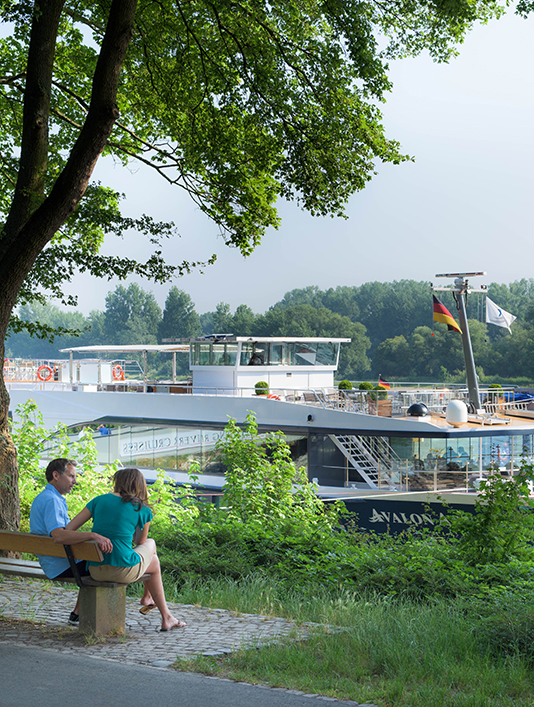 Before You Go
We'll take every step to ensure you and your traveling companions are ready for the journey. Along with a host of pre-trip info to ensure you're prepared for your cruise, you'll have access to the AvalonGO App—a great resource for your cruise schedule and details, onboard amenities and services, destination information, and updates related to your cruise.
And as an additional assurance measure, we're providing guests with a set of health and safety advice and instructions, ensuring that all health considerations have been taken into account before leaving home.
View Pre-Trip Health Screening Instructions

View Health & Safety Waiver COVID-19
Travel restrictions and regulations are changing daily. For up to date travel information about your destination, including medical testing and/or documentation required (including information for COVID-19 requirements), visas, passports and other information, visit the embassy site for your destination. Please make sure you are aware of entry and exit requirements for your trip as we may not be able to support your entry or exit if you do not follow the guidelines of the country in which you are traveling.
View Embassy Contact Information for COVID-19
---
Peace of Mind for Your Reservation
And what if you want to change your plans? No problem! Each new booking comes with our 2021 Peace of Mind Travel Plan, enabling you to change your travel plans with us to a new date, destination or even brand up until final payment.
Plus, we're here for you. Our Vacation Planners are available each day to answer questions and ensure you're confident in your upcoming journey—we love to hear from you!
Welcome Aboard
You'll receive a warm welcome by your Avalon crew. They're ready, willing and able to ensure that you have a healthy and happy journey with us—here's how:
On Embarkation
Cruise Directors, Adventure Hosts, dining, housekeeping and reception staff, drivers and local guides wear face masks when with guests, ensuring the spread of joy, not germs, while also making masks available to guests, as needed, throughout your journey.
Key crew members are trained in First Aid and CPR, as well as our enhanced health and safety protocols
They're supported 24/7 by our local offices, who are well-equipped to handle on-trip issues
They have extensive local knowledge to help enjoy your destination safely, including information on navigating your shore excursions with confidence, as well as a host of independent exploration options.
Enhanced Welcoming Procedures
Onboard health screening, including touch-free temperature-check, for all guests and crew. Guest temperatures will be checked at embarkation and when returning to the ship throughout the cruise. If any guest shows signs of sickness or have a high temperature, your Cruise Director will assist in finding local medical facilities.
Direction and details on social distancing throughout your cruise.
Luggage disinfection prior to boarding the ship (with our team wearing gloves and masks).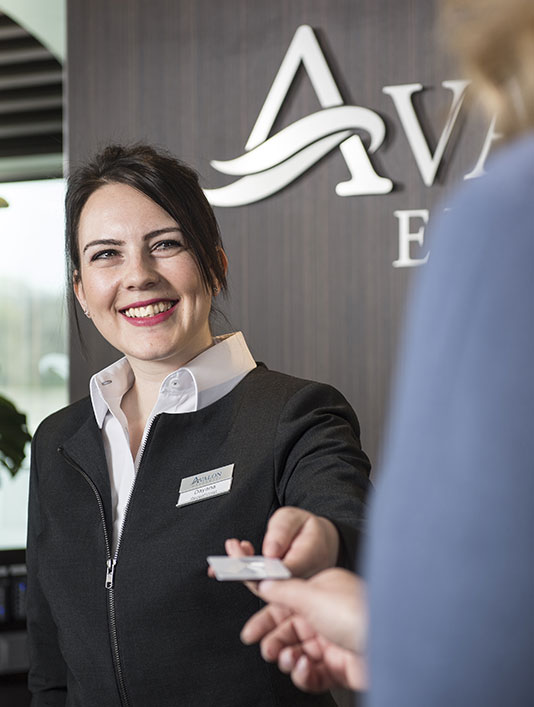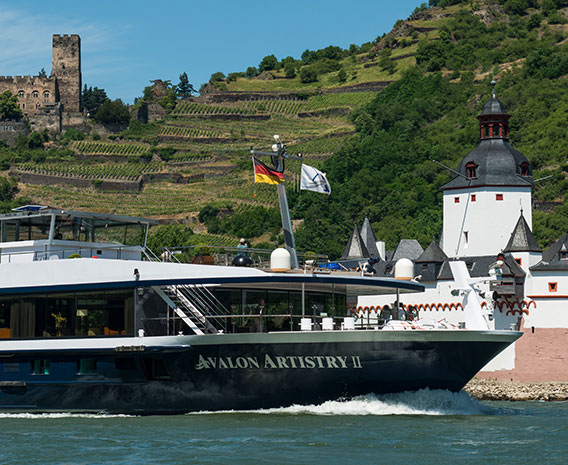 While Traveling
Avalon goes the extra mile to ensure your home away from home, your Avalon ship, is clean and safe throughout your voyage. This includes enhanced cleaning and hygiene protocols, followed with the utmost diligence, including twice daily stateroom cleaning and hourly cleaning of the ship's common areas. Lounges and Dining Rooms receive special attention before and after each use.

Cruising with Avalon removes many "touch points" of travel, including luggage handling, checking in and out of hotels, and the purchase of sightseeing tickets. All this ensures only hearts are touched, not hands. We've also taken the extra step of removal of many printed items, replaced with easy-to-access information at our interactive kiosks, on screens throughout the ship, and via the AvalonGO App.

Safety extends off the ship, as well. Our shore excursions include expedited entry into must-see attractions, which means no waiting in long, crowded queues of people. For moments when touch is necessary, hand sanitizers are at-the-ready throughout each ship and on our vehicles.
Commitment to the Cleanest Ships
Avalon has put in place enhanced cleaning procedures throughout each ship, such as these additional steps that go above-and-beyond Avalon's already strict procedures, including:
Use of electrostatic disinfecting systems
Disinfection of all dining areas between meals
Disinfection of all shared items like umbrellas, bicycles and other Adventure Center items
Disinfection of all goods prior to loading on the ship
Ongoing crew training in protective equipment use and hygiene
Deep disinfection of each stateroom between cruises, including:

Use of disinfectants and cleaning materials that meet or exceed the highest CDC standards
Soft goods in each stateroom (mattress, sofa, window coverings, chairs, etc.) sanitized between cruises
---
Extra Room to Roam
Avalon's unique Suite Ship design means extra space throughout the ship. With 15% fewer guests than the average river cruise, Avalon assures that each guest has room to stretch out and relax. And we're reducing ship capacity further, per local requirements, for even more space onboard.
Additional dining areas have been also been established to ensure safe social distancing during meals, and Avalon will adjust the ratio of guides and coaches for excursions, as required, accounting for safe distances while in port.
---
Ensuring Healthy (and Happy) Guests
Guests are asked to keep a close eye on how they're feeling and report any new symptoms to a crew member so we can make sure they get the help they need. If anyone should become ill while traveling with us, we'll ask them to isolate until they can be seen by a medical professional. Because we sail in inland waterways, high quality local medical services are always nearby.
---
Ensuring Healthy (and Happy) Crew
Healthy crews help keep a healthy cruise, and Avalon goes to great lengths to ensure that's the case. Medical certificates for each crew member are required prior to start of sailing season, and we've instituted daily temperature checks along with regular health screenings. Social distancing is enabled in the crew quarters as well as throughout each ship.
And while you enjoy your vacation, we are working behind-the-scenes to ensure safety with hands-free services, as traditional self-services have been replaced by staff service, including buffet meals.
HEADING FOR HOME
Our aim is that your cruise leaves you as healthy as—and happier than—when you left. Efficient and reliable airport transfers are available (and are included when you purchase flights with us), so that's one less thing to worry about.
As you prepare for the journey home, If you need any assistance or are not feeling 100%, just let your Cruise Director know and we can help find local medical assistance to get you ship-shape before your return.

Avalon Waterways' health and safety guidelines and protocols (The Avalon Assurance Program) have been developed in partnership with IGI Limited, a company that specializes in travel-related health and safety measures, and long-time industry consultant Ian Greaves. Additionally, Avalon's team includes two Hygiene & Procedure Officers who's roles are to ensure the seamless execution of these protocols across our European fleet.

These protocols have received approvals of the World Travel & Tourism Council as well as United States Tour Operator Association.


Avalon Waterways will continue to review and update Assurance initiatives as we make our return to the world, including adhering to – and building upon – the standards set forth by travel and health agencies across the globe, including the European Centre for Disease Prevention (ECDC), the U.S. Center for Disease Control (CDC), World Health Organization (WHO), Cruise Lines International Association (CLIA) and United States Tour Operators Association (USTOA).